Description
Spice up your love life and enjoy a sensual warming session with your loved one. Our Bunnies specialize in creating erotic moments for your viewing pleasure. Surprise your significant other with an unforgettable, extremely passionate experience. Our Bunnies perform to different comfort levels, mild to wild. Our goal is to make sure you are comfortable and enjoying every second. Upgrade to a blindfolded, natural aphrodisiac tasting while enjoying your favorite spirit.
Why Choose the Love Bunnies for your Couples Experience? Our Bunnies are trained to work with all comfort levels and they truly care about your experience. Each of our girls have great personalities and are sexy beyond compare. If you are looking for an unforgettable, memorable, unique experience, choose us!
Rates & Options
RATES
1 Bunny for 30 min $300
1 Bunny for 60 min $500
2 Bunnies for 30 min $550
2 Bunnies for 60 min $850 (includes girl on girl fantasy show)
UPGRADES
Blindfolded Aphrodisiac Tasting and Champagne Show $300
Bath or Shower Show $500/girl
Girl on Girl "Strap On" Show $1,200
** We also provide male companions at the same rate as our bunnies **
Are you a couple looking to spice things up?
Are you a sexy couple looking to spice things up? Hire one of our Love Bunnies for our Couples Romance service!
Here is an example of a fantasy date for couples with one of our girls:
Our gorgeous erotic entertainer will come dressed up and excited to meet you and your partner in crime at the hotel lounge for some drinks and conversation. After some laughs and warming up, the three of you go to the Jewel nightclub inside Aria. There the magnificent threesome can listen to popular club music while doing shots and dancing the night away!
To end the night the right way, have our Love Bunny escort the two of you back to your suite or house. You and your partner can relax and set the atmosphere with some mood lighting (think candles and dimmer switches) while your fantasy girl gets dressed into something extra sexy 😉 When the time is right, she will come out to some sensual music and perform an erotic striptease show. She can give you and your partner lap dances, body rubs, and some playful whipping and spanking. If you are really enjoying the show, turn it up a notch and get your Love Bunny naked and wet! She can also perform a private erotic self-love show with baby oil and ice and really show you how to really turns things up in the bedroom!
It's Critical to Spice Up Your Relationship
The adage "spice up your relationship" has taken on some notoriety in the dynamic world of contemporary relationships. What does it actually imply, though, and why is it so important for couples to adopt this perspective? Before we can explore this issue, we must acknowledge that relationships are dynamic and require care, effort, and creativity. We will examine the many justifications for why it is crucial for couples to spice up their relationships in this essay, highlighting the advantages it provides in terms of emotional connection, intimacy, and long-term contentment.
1. Fighting routine and boredom: One of the most frequent issues that couples deal with is the gradual encroachment of regularity and boredom into their relationships. Emotional detachment and unhappiness can result from routine and predictability in daily life. Injecting excitement and novelty into your relationship will break the tedium and revive the bond between lovers.
2. **Improving Emotional Connection**: Infusing your relationship with fresh experiences and adventures encourages a stronger emotional bond. A solid relationship centered on exploration and growth for both parties is created through participating in common activities and discovering new interests. The result is increased emotional intimacy.
3. **Rediscovering Each Other**: Individuals change and develop over time. You offer yourselves the chance to rediscover each other by trying to enliven your connection. You might uncover long-buried passions, skills, or dreams that have emerged since you first met each other, deepening your bond.
4. **Improving Communication**: Experimenting with new things as a group fosters communication. Sprucing up your relationship brings up new opportunities for honest and meaningful conversations, whether it's setting up an exciting date, talking about fantasies, or revealing your concerns and wants. Between partners, this better communication can increase comprehension and empathy.
5. Fostering Trust: A solid partnership is built on trust. Couples develop trust in one another when they experiment and learn new things together. The ability to be open-minded and vulnerable fosters a climate where trust can grow, strengthening the emotional bond.
6. Reigniting Passion: The initial embers of passion may fade as partnerships progress. Rekindling that spark by adding freshness and excitement is possible. The excitement of attempting something new can pique desire and rekindle any lost physical and emotional intimacy. This is why it's important to understand the importance of strippers for couple's romance.
7. Preventing adultery: In some situations, a lack of novelty and excitement might cause people to look for stimulation outside of relationships, which could result in adultery. Couples can actively attempt to lessen the likelihood of infidelity by gratifying their need for stimulation within the relationship.
8. Strengthening Commitment: An ongoingly fulfilling and engaging relationship is more likely to withstand difficulties. Adding some spice to your relationship strengthens your commitment to one another since both parties are invested in preserving and enhancing it.
9. Building Resilience: Relationships inevitably experience ups and downs. In the face of difficulty, couples who intentionally spice up their relationship are more likely to be resilient. They may be more resilient to harsh times due to the emotional connection and sense of excitement that comes from attempting new things together.
10. Setting an Example: Relationships that are strong and healthy serve as examples for friends, family, and even children. By deliberately trying to make your relationship more exciting, you not only benefit yourself but also encourage those around you to emphasize love and connection in their own relationships and make an investment in their own.
11. Increasing Self-Esteem: A satisfying relationship can increase one's sense of value and self-esteem. The affirmation and admiration that partners receive from one another when they share interesting and important events together improves their general well-being.
12. **Embracing Individual Growth**: While being a part of a partnership is lovely, it's important to remember that everyone is capable of personal development and self-discovery. By adding some spice to your union, you may support each spouse in pursuing their individual passions and goals while also fostering your union.
13. Increasing Long-Term Satisfaction: Most couples hope to spend a long time together in happiness. It's crucial to continuously engage in the relationship's development and enthusiasm if you want to succeed in this. Long-term joy and satisfaction are more likely to come from a partnership that changes and adapts.
14. **Learning to Adapt**: Relationships must adapt to life's constant change. When a couple embraces novelty and excitement, they learn how to adjust to life's changes and challenges, strengthening their bond in the face of difficulty.
15. **Celebrating Special Moments**: Sharing remarkable experiences with a spouse deepens their emotional bond. Special outings, journeys, and surprises provide a treasure trove of wonderful memories and serve as enduring reminders of the love and joy shared in the partnership.
16. Reaffirming Love and Commitment: One practical technique to show your lover that you love and are committed to them is to spice up your relationship. It demonstrates how much you value the connection by making time, effort, and creative efforts to keep it vibrant.
17. **Embracing Diversity**: Couples are exposed to diversity when they explore new hobbies and interests. This can entail taking up diverse hobbies, exploring various cultures, or trying out new foods. Together, embracing diversity can enlarge horizons and increase mutual understanding.
18. Living life to the fullest: Since time is of the essence, partnerships ought to bring happiness and fulfillment. You may maximize the pleasure you can have from each other's company and build a partnership that genuinely enhances your lives by spicing up your relationship with a stripper for couple's romance.
19. Bringing Stability: A solid and loving relationship can be a source of comfort and stability in an unpredictably tumultuous world. Your partnership will continue to be a haven where you can find comfort and support if you spice things up.
20. **Strengthening the collaboration**: Because a relationship is a collaboration, it needs work and upkeep, just like any other partnership. By adding spice to your relationship, you show that you are committed to being a proactive and involved spouse, which strengthens the union as a whole.
In conclusion, adding some spice to your relationship is more than just a trendy phrase—it's an essential component of preserving a strong, happy, and long-lasting union. It breaks up routine, strengthens emotional ties, and promotes trust and closeness. It rekindles passion, avoids adultery, and improves communication. Additionally, it promotes self-esteem, commemorates significant occasions, and serves as an example for others. In the end, it guarantees that your partnership will continue to be a source of happiness, support, and development throughout your journey as a couple. Therefore, accept the significance of spicing up your relationship if you want to experience a strong and durable love.
Frequently Asked Questions
Am I guaranteed the girl I ordered is the one that shows up?
At least 90% of the time you'll get the girl you ordered. There can be times when a girl is unavailable for circumstances beyond our control (sick, injured, personal matter, etc). We will always let you know if the girl you ordered can't make it and we will do our best to find the best replacement option for you. If you paid a deposit online, it's refundable if you refuse the girl when she arrives. We never scam our customers. Our goal is your compete satisfaction.
The other agencies have over 100 girls, why do you have less?
The "other agencies" are extreme exaggerators and often boast of having hundreds of girls when in reality, they have maybe a dozen. It's the classic game of "bait and switch", meaning, the website will show you pictures of beautiful girls and when you order one, they simply send any girl that is available. If you ordered a blonde, caucasian girl with big boobs, you might get a dark skinned red head with a small rack.
We have less girls on our site because they are all REAL. The girl in the picture is exactly the girl that works for us. We don't fake it because we don't have to!
Bottom line: We care more than any other agency around. That's why we spend more time improving our services and roster of girls, so you'll find the perfect girl for your needs.
What can we do during our one-on-one time?
You two can have as much fun as you want! When your girl arrives, she will go over entertainment options. What's included is the girl will come prepared with sexy outfits, speaker for music, and toys for shows and adult games.
You are welcome to ask our strippers for anything as they are independent contractors. They can go over how they can dance and entertain for you. Please be respectful in how you talk to them. If they are uncomfortable for any reason, they can leave at anytime.
Just to be crystal clear, we are an entertainment agency and we do NOT promote girls for sex in exchange for money. That is considered prostitution and is illegal in the state of Nevada.
How much should I tip?
Tipping is definitely expected and appreciated. Like they say in the strip club, "the bigger the bill, the bigger the thrill!"
I paid the fee online but the girl never showed up. What now?
If for any reason your stripper doesn't show up as promised, we can find you replacement options immediately or we can give you a 100% refund.
Can I order more than one?
Of course! We also give a 5% credit back when booking 2 or more girls 😉
Solo Stripper
WHAT IS THIS?
Bored in your fancy hotel room? Would you like some company? A solo bunny is a stripper who can come to you for a one-on-one experience. Our strippers look EXACTLY like their pictures (we don't "Bait and Switch" like everyone else). They will come to you dressed in clothes that you prefer and will bring a speaker and lights to help enhance the mood. They will give you a better VIP experience then you can get at the club!
Bachelor Party Strippers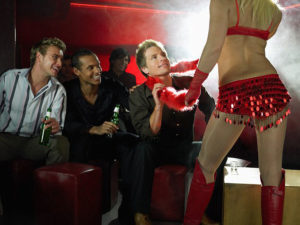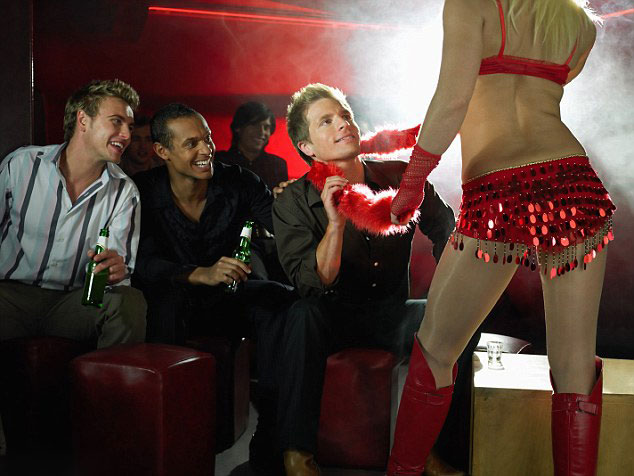 WHAT IS THIS?
Celebrate your bachelor party with the wildest girls in Las Vegas! We can totally customize your experience to make sure it goes exactly the way you want. Why spend hundreds or thousands of dollars at the strip club when most of that money goes to the owner? Have the girls come to your room and make it rain and they'll do more because they're making more!