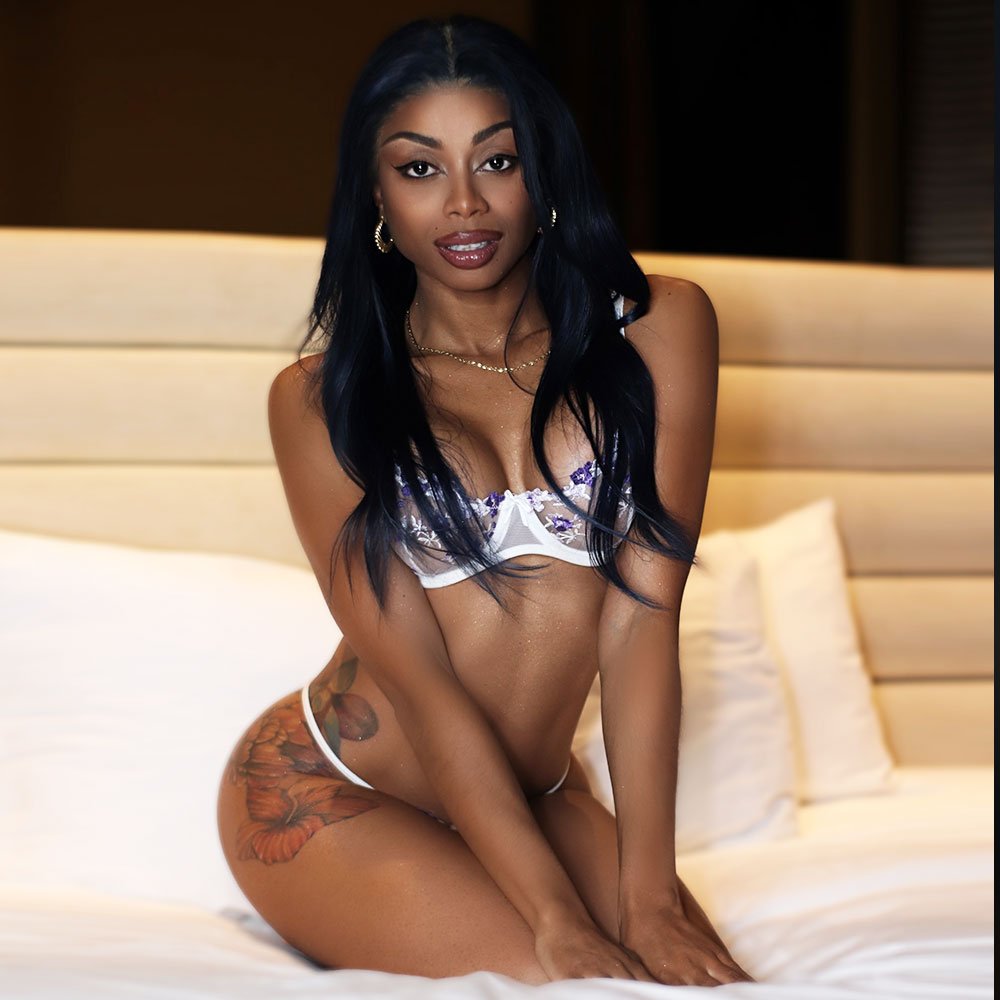 Toni
Toni is a gorgeous African American stripper in Las Vegas
Thai
Thai is a sexy Black and Asian stripper in Las Vegas
Bambee
Bambee is a beautiful black stripper in Las Vegas
Kaya
Kaya is a sexy and cute black stripper in Las Vegas
Black Strippers in Las Vegas Information
We have every beautiful shade of ebony just for you. At Love Bunnies, we work hard to find gorgeous black women who can not only dance, but conversate and entertain you in ways you only imagine. We are an agency that loves women of all colors, including attractive and fun African American exotic dancers. You'll be hard pressed to find better strippers in Las Vegas. You can look in the club, pool party, or on the strip, but you won't find these girls just wandering around. They're busy on the weekends dancing and entertaining at private parties throughout the city. Book with us today and have one of our sweet and lovely mocha and chocolate skin ladies come and perform at your next special party or event!
Black Strippers FAQ
How do I find the best black strippers in Las Vegas?
Just give us a call or contact us through our website. We are excited to help you with any exotic entertainment requests.
How do I hire black female strippers?
Just contact Love Bunnies through our reservation form in order to get the process started. We work hard to create an easy and seamless experience when it comes to booking our beautiful strippers.
About Black Strippers in Las Vegas
First Off
There is a unique universe of entertainment in Las Vegas, which is well-known for its vibrant nightlife, which includes exotic dancing. Black strippers play a significant role in this industry. This essay will examine the lives of African American exotic dancers in Las Vegas, emphasizing their identities, feelings of empowerment, and challenges in a sometimes exciting and challenging line of work.
First, A Little History
Let's take a moment to examine how concerns of race and gender have influenced the exotic dance industry before getting started. In the early 1900s, exotic dancing began to acquire popularity in the United States. African Americans back then frequently experienced prejudice and had few career options, which caused some of them to turn to exotic dancing as a means of subsistence.
Experiencing Strength thru Achievement
A performance can give many Black strippers in Las Vegas a sense of strength and confidence. They gain mastery over their bodies and lives when they dance sensually and audaciously. According to some dancers, it allows them to rebel against social norms.
Sexuality and Gender
In the realm of exotic dancing, appearance and performance can have a significant impact. This section of the article discusses how, similar to other dancers, Black strippers may experience pressure to live up to predetermined standards of performance and attractiveness. Furthermore, navigating gender and sexual identity can be challenging when working with a diverse group of clients and colleagues.
Determining Your Identity as a Black Stripper
Comprehending oneself can be difficult for certain dancers. Some people feel that their work makes them more visible to the public, while others accept exotic dance as a part of who they are. The way dancers manage their identities both within and outside of the studio is covered in this section.
Risks and Rewards of being a Black Stripper
There are regulations and safety issues related to exotic dance. The dancing industry is governed by legislation, and dancers may encounter issues with their legal rights, safety, and health care. The regulations and safety concerns they address are examined in this section. The financial rewards are obvious and the main reason who some African American females choose to become a black stripper.
Finances and Financial Difficulties
Part of the motivation for people to become exotic dancers is money. It can be a lucrative career for dancers of African descent as well as others. There are certain drawbacks, though. Dealing with unpredictable income, no job security, and occasionally unjust treatment from club owners or patrons are common aspects of the work. This section explores the financial aspects of exotic dancing and the potential impact on individuals' lives.
Companions and Help
Black exotic dancers frequently find friends and support in their communities despite all the obstacles they face. They share their experiences and form close ties with their colleagues. They can manage the challenging aspects of their work with this support.
Concluding remarks
Black strippers in Las Vegas lead complicated lives. While some people struggle with how society perceives them, others find courage and success in their employment. Understanding their environment requires taking into account their history, the gender and racial concerns they deal with, and the particular difficulties they encounter in their line of work. In order to make our business more inclusive and equitable for all, it is critical to respect and encourage everyone in it.