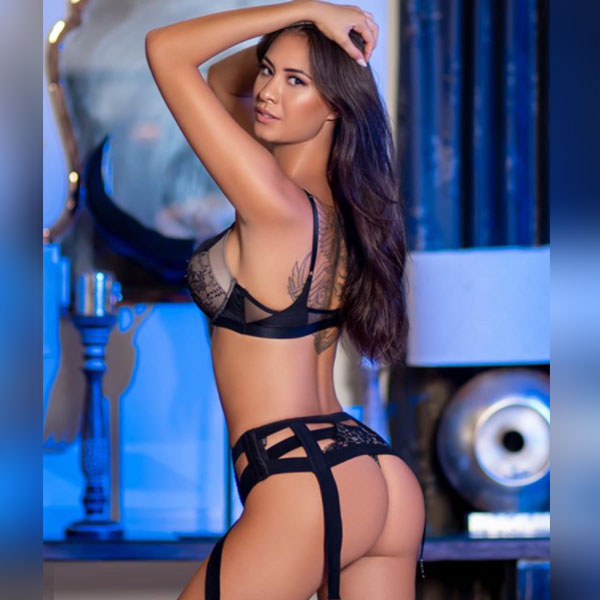 Avalon
Avalon is a mixed asian stripper in Las Vegas
Lee
Lee is a Filipino/Spanish/Chinese stripper in Las Vegas
Jaylin
Jaylin is a mixed asian exotic dancer in Vegas
Kitty
Kitty is a cute, smart and flirty Filipino girl in Las Vegas
Thai
Thai is a half Asian stripper in Las Vegas Nevada
Meloniee
Meloniee is a Vietnamese/Chinese/French exotic entertainer in Las Vegas
Cat
Cat is an Asian exotic entertainer in LV
Asian Strippers in Las Vegas Information
We have every type of exotic Asian stripper in Sin City! At Wild Entertainment, we search long and hard to find the most attractive Asian exotic dancers that aren't just pretty on the eyes, but can dance, talk and entertain you unti the sun goes up. Our agency is open to all races and nationalities. It's not easy to find sweet, fun, gorgeous, sensual and open minded Asian girls in Las Vegas. Lucky for you, we've taken care of that for you! Book an Asian stripper today for your next bachelor or draft party. Also hire one of our Sushi Models to help get the party started.
Asian Countries
Afghanistan, Armenia, Azerbaijan, Bahrain, Bangladesh, Bhutan, Cambodia, China, Georgia, India, Indonesia, Iran, Iraq, Israel, Japan, Jordan, Kazakhstan, Kuwait, Kyrgyzstan, Laos, Lebanon, Malaysia, Maldives, Mongolia, Myanmar (Burma), Nepal, North Korea, Oman, Pakistan, Philippines, Qatar, Russia (parts in Europe and Asia), Saudi Arabia, Singapore, South Korea, Sri Lanka, Syria, Tajikistan, Thailand, Timor-Leste (East Timor), Turkey (parts in Europe and Asia), Turkmenistan, United Arab Emirates (UAE), Uzbekistan, Vietnam, and Yemen.
These Asian countries can be broken down into six regions:
Central Asians Afghani, Armenian, Azerbaijani, Georgians, Kazakh, Kyrgyz, Mongolian, Tajik, Turkmen, Uzbek.
East Asians Chinese, Japanese, Korean, Okinawan, Taiwanese, Tibetan.
Native Hawaiians and Pacific Islanders (in the U.S. Jurisdictions & Territories) Carolinian, Chamorro, Chuukese, Fijian, Guamanian, Hawaiian, Kosraean, Marshallesse, Native Hawaiian, Niuean, Palauan, Pohnpeian, Papua New Guinean, Samoan, Tokelauan, Tongan, Yapese.
Southeast Asians Bruneian, Burmese, Cambodian, Filipino, Hmong, Indonesian, Laotian, Malaysian, Mien, Singaporean, Timorese, Thai, Vietnamese
South Asians Bangladeshi, Bhutanese, Indian, Maldivians, Nepali, Pakistani, Sri Lankan.
West Asians This is a contested term, most people from the region do not self-identify as such. West Asia is typically referred to as the Middle East; and geographically includes the countries of Bahrain, Iran, Iraq, Israel, Jordan, Kuwait, Lebanon, Oman, Palestine, Qatar, Saudi Arabia, Syria, Turkey (straddles Europe and Asia) United Arab Emirates and Yemen.
Asian Strippers FAQ
How do I find the best Asian exotic strippers in Las Vegas?
Just contact us through our website form or give us a call. We are happy to help you with any exotic entertainment needs
How do I hire Asian strippers?
Just contact Love Bunnies through our reservation form in order to get the reservation process started. We work hard to create a smooth and seamless experience when it comes to booking asian girls.
Are you ready for your Vegas Stripper experience?
The best experience is one that is personal and tailored just for you. Who cares about the typical pool party, nightclub, bar and strip club in Las Vegas? You want a custom memory that will last you a lifetime. If you really want to make a fantasy come true, be sure to contact Wild Entertainment/Love Bunnies and they will help you with this.
Do you want a private party in your airbnb or hotel suite? Do you want two to three beautiful Asian strippers to come by and get your party turnt up? Then look no further! We can do many things to make this happen. Contact us for more details.
About Asian strippers in Las Vegas
Discovering Asian Strippers
Overview
Experiencing strip clubs is just one way to immerse yourself in the rich cultural fabric of ancient traditions and contemporary vibrancy that travel to Asia provides. Even though the word "exotic" can mean different things to different people, Asian Strippers are frequently praised for their interesting and varied shows. The reasons why visiting these strip clubs when traveling to Asia is enjoyable are examined in this article. The captivating traditional dances and exciting modern shows offered by Asia's exotic dance clubs make for an unforgettable and exhilarating experience that is difficult to replicate.
1. Asian Stripper performances
Seeing a variety of exotic performances is one of the most amazing reasons to Asian strippers. Every Asian strip show has unique dancing customs, attire, and musical styles, which transform any visit into a cultural adventure. For instance, you may fully experience the grace of traditional Thai dance performances in Thailand, like the energetic Ram Thai dance and the elegant Khon dance. A peek of Thailand's rich creative and historical legacy is offered by these performances.
The world of Bollywood dance clubs in India is waiting for you. Bollywood dancing is a vibrant, high-energy mix of Indian dance styles with vibrant clothing. It's amusing to watch these elaborate routines performed by expert dancers, and it also provides a glimpse into India's colorful film culture.
2. Variety of Asian Stripper Dance Forms
Asian stripper dance moves don't just feature conventional styles. A variety of forms, such as fusion, hip-hop, and contemporary dances, are offered at several exotic clubs. These clubs offer a variety of options so that everyone can find something they enjoy. You may go to clubs in Las Vegas and watch Asian strippers work the pole with passion and accuracy. You could even get the opportunity to join in on the dance floor, since the energy on the floor is electrifying.
3. Immersion-Based Amusement
Immersion entertainment experiences are given priority in Asian dance clubs. Modern technology, sophisticated lighting, and sound systems take these clubs to a whole new level. You join the performance as soon as you walk in, rather than merely watching it from the sidelines. The whole delight is enhanced by the surreal environment created by 3D projections, LED screens, and laser lights.
These clubs' immersive atmosphere guarantees that you're totally involved, making your night out one to remember. You'll feel a sense of exhilaration and camaraderie as you join in on the dancing, clapping, and cheering with the audience.
4. Special Performances and Themed Evenings
A further layer of excitement to your visit is provided by the themed nights and unique performances that many exotic dance clubs in Asia arrange. Themes might include everything from classic disco evenings to ethnic holidays like Diwali or Chinese New Year. These events frequently have one-of-a-kind decorations and performances that take you elsewhere.
These clubs frequently feature special performances like fire dancing or aerial acrobatics. These performances provide a surprise aspect to your night out while showcasing the artists' extraordinary talent and inventiveness.
5. East and West Fusion
Exotic dance clubs in Asia often combine aspects of Western and Eastern cultures, creating a fascinating fusion of customs. You may see a hip-hop concert using traditional instruments or a traditional dance performed to a contemporary pop song. These combinations produce a genuinely one-of-a-kind entertainment experience while capturing the dynamic essence of Asian culture.
For instance, ancient Japanese dance forms like Noh and Kabuki are frequently combined with modern dance and music in Japanese clubs. Through the merging of the old and contemporary, a visually spectacular and culturally rich experience is produced.
6. Worldwide Stripper Appeal
Exotic dance clubs in Asia draw a multicultural and multinational clientele. There's a friendly atmosphere where people from all over the world gather to enjoy the performances, music, and dancing, whether you're traveling alone, with a partner, or in a group. This appeal on a global scale enhances the excitement and cross-cultural interaction of your stay.
7. Gastronomic Pleasures
A vast range of culinary treats are available at many Asian clubs in addition to the dance performances. Enjoy the performance while indulging on regional and global food. There's a wide variety of culinary alternatives to please your palate, whether you're craving sushi in Japan, dim sum in Hong Kong, or spicy Thai street cuisine.
8. Nighttime Diverseness
Asia is well known for having a lively nightlife, of which exotic dance clubs are only one aspect. Following the enthralling shows, you may visit the vibrant night markets, indulge in inventive drinks at rooftop bars, or have a wild time at some of Asia's most renowned nightclubs. There is always something fresh and fascinating to discover because to the diversity of the nightlife.
1. Themed nights at Asian strip clubs
Asian strip clubs frequently have themed evenings that enhance the clubbing experience with an additional dose of inventiveness and excitement. These themes might be anything from cultural holidays and festivities to retro, 80s, or 90s parties. Here are a few illustrations:
Back to the Past
Many Asian exotic dance clubs have retro-themed evenings when they play music from the corresponding era and invite guests to dress in period appropriate attire. During these evenings, nostalgic music frequently whisks guests back in time, and you can witness people dressed in legendary 1960s attire.
Celebrating Cultures
Clubs usually coordinate their themes with holidays like Songkran (Thai New Year), Diwali, or Chinese New Year. The club might be decked out in holiday decorations during certain occasions, and there might be performances or other celebration-related activities.
Cosplay and Fantasy Nights
Some bars hold cosplay evenings to cater to manga, anime, and fantasy aficionados. Strippers dress up like their favorite fictional characters from popular culture, which creates a distinctive and eye-catching ambiance.
2. Unique Asian Stripper Shows
Asian strippers that can perform exotic adult shows frequently showcase acts that transcend conventional dance and entertainment norms. The purpose of these performances is to enthrall and excite the audience. Some examples of strange show types you may come upon are as follows:
Dancing on Fire
In the captivating performance art of fire dancing, dancers deftly and gracefully control flaming objects. Fire is a beautiful and dangerous combination that provides for an exhilarating and memorable experience.
Aerial Manoeuvres
Aerial acrobats that do amazing performances while suspended from the ceiling can be found in some bars. These acts defy gravity, showcasing the performers' strength and agility while infusing the room with a sense of amazement.
Cabaret and Burlesque
Performances of cabaret and burlesque are renowned for their sensual and dramatic qualities. These performances frequently incorporate comedy, dance, and narrative to provide the audience a pleasurable and enjoyable experience.
Performances Under the Stars
Numerous nightclubs include glow-in-the-dark components in their performances, producing eye-catching visual effects with fluorescent paint and blacklights. A captivating show is created as dancers in shimmering costumes move to the beat of the music.
Acts of Circumstance
Asian nightclubs host circus-style shows by jugglers, contortionists, and stilt walkers, among other performers. These performers give the entertainment roster a surprise and variation factor.
Active Entertainment
In certain clubs, the Asian strippers interact with the patrons, extending invitations to those who are willing to join them onstage or participate in the performance. This interaction makes the whole experience better and motivates audience members to give the performance their whole attention.
3. Ambience and Themed Decor
Asian Strip Clubs take great care in its ambiance and décor to optimize the thematic experience. The club may be changed into a whimsical environment filled with lights, colors, and accessories that fit the evening's theme. For example:
Themes from Bollywood
Clubs with a Bollywood theme may be decorated with bright, colorful décor that echo the set of a Bollywood movie. The location is frequently decorated with elaborate patterns, luxurious textiles, and pictures of well-known Bollywood actors.
Celebrating Cultures
Clubs can decorate with traditional lanterns, auspicious symbols, and vivid red and gold hues for cultural festivities like Chinese New Year to create a festive and prosperous ambiance.
Cosplay and Fantasy
Clubs may build up backdrops and settings inspired by well-known moments from films, video games, or anime series for fantasy and cosplay nights. This gives the experience a more immersive quality.
9. Recalling Memorable Events
It's a rare chance to make lifelong memories to visit stripper clubs in Asia. These clubs offer an amazing experience that you'll remember for years to come, whether you're celebrating a particular event or just looking for a fun night out. Your visit will be engraved in your memory thanks to the engaging performances, immersive entertainment, and lively atmosphere.
10. Interaction of Asian Stripper Cultures
Finally, hiring Asian strippers encourages appreciation and sharing of cultures. It enables you to interact with people from all origins, experience various dancing styles, and form connections with local customs. These interactions enhance your trip experience by promoting a sense of understanding and solidarity among all people.
In summary
A trip that blends entertainment, immersive experiences, and cultural discovery is touring night clubs in Las Vegas and hiring Asian strippers. These clubs provide a wide variety of entertainment alternatives, from modern acts that fuse East and West to traditional dance performances that highlight a nation's heritage. Every visit is an unforgettable voyage into the heart of Asian culture and nightlife thanks to the lively atmosphere, themed nights, and international appeal of the Asian Stripper. Thus, for a night you won't soon forget, make sure to include a trip to an exotic dance club in your next travel itinerary when visiting Asia.
Asian Stripper Videos
Pole Dancing Videos
About Asian strippers in Las Vegas
Introduction
In addition to its bright lights and busy casinos, Las Vegas, the global center of entertainment, is also home to a booming nightclub and stripclub business. Asian strippers have a special role in this market and offer a distinct set of benefits and chances. We'll examine the advantages of being an Asian exotic dancer in Las Vegas in this essay, dissecting the factors that draw certain people to this line of work.
Cultural Diversity in Representation
Being an Asian stripper in Las Vegas offers several advantages, one of which is the chance to honor and promote various cultural traditions. Asians in the city are proud to use dance, costumes, and music to showcase their cultural background. This gives individuals from all around the world a platform to learn about and be entertained by various Asian customs.
Performance-Based Empowerment
People are empowered by exotic dancing because it gives them a platform to express themselves via performance and dance. In their performances, Asian strippers in Las Vegas frequently express a sense of confidence and emancipation, embracing their bodies and taking charge of their lives. Like any other exotic dancer, it's an opportunity to break free from cultural expectations and standards.
Innovation and Cultural Fusion
Las Vegas is renowned for its eclectic mix of entertainment genres and cultural backgrounds. Asian strippers can create distinctive and engaging performances by fusing different artistic forms with their cultural influences. Their unique blend of cultures can help them stand out in the cutthroat world of exotic dancing.
Financial Prospects for the Asian stripper
Similar to exotic dancers from many origins, Asian dancers in Las Vegas have access to significant financial prospects. They may be able to maintain financial stability and a consistent income thanks to the city's entertainment sector. Many see this as a profitable means of providing for their family and themselves.
Obstacles and Preconceptions
Being an Asian stripper in Las Vegas has its advantages, but there are drawbacks as well. While some people may encounter prejudices or stereotypes, they frequently utilize their experiences to refute these ideas and advance intercultural understanding.
Empowerment and Gender
Empowerment is frequently linked to the exotic dance industry, and Asian dancers are no exception. They are able to reclaim their bodies and narratives when they express themselves via dancing. The freedom to make their own decisions and achieve financial independence may also empower them.
Support Systems and Legal Protections
Regulations are in place in Las Vegas to safeguard exotic dancers, particularly those who are Asian in heritage. Legal rights, worker safety, and fair remuneration are all covered by these standards. In addition, a lot of dancers create robust support systems among themselves in the business, providing each other with both practical and emotional help.
Originality and Expression through Art
In their performances, Asian strippers in Las Vegas get the opportunity to exhibit their artistic expression and originality. They are able to create original choreography, costumes, props, music and routines that pay homage to their passions and cultural backgrounds. One of the things that makes the job so intriguing is the creative freedom it offers.
Cooperation and Unity among Asian exotic dancers
Asian exotic dancers frequently create tight-knit groups among themselves. They give guidance, exchange experiences, and act as a support network in an often difficult and demanding field. These relationships aid them in navigating the highs and lows of their line of work.
Conclusion
There are several special benefits to becoming an Asian stripper in Las Vegas, including income opportunities, empowerment via performance, and cultural expression. Despite obstacles and misconceptions, a lot of people in this field manage to prosper in spite of them. The dynamic and lively entertainment scene of Las Vegas is enhanced by Asian strippers, who embrace originality, celebrate variety, and establish strong support networks.