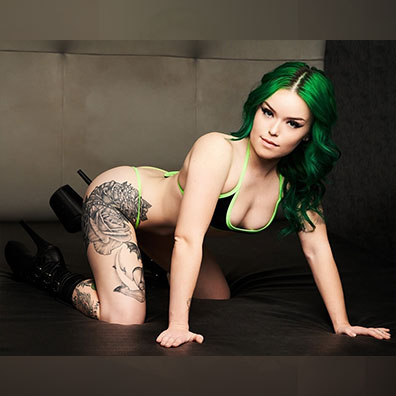 My Stats
Height: 4'11"
Hair: Green / Brunette
Eyes: Hazel
Bust: 34B
Ethnicity: Caucasian
Location: Las Vegas, NV
Languages Spoken: English
Specialties: Bachelor Party Stripper, Fantasy Date, Atmosphere Model
My Biography
Hi! I'm Teeny! I'm from Texas and now I live in viva Las Vegas!
I'm a visual artist and love to create. I've worked as a photographer, videographer, and personal assistant.
My hobbies include painting, making music, art, skating and cooking.
After I graduated college, I became a published photographer and have been on multiple tours as a concert photographer.
One of my goals is to go back to school and become a mortician and eventually own a funeral home.
I've been described as goofy, light-hearted, witty and a natural caregiver.
I would be an excellent fantasy date because I try to be open and easy going while establishing a genuine connection that hopefully will last a lifetime. If you like laid-back, goofy and quick witted, I'm your girl 😉
*NO PRE-PAYMENT REQUIRED*
*NO PRE-PAYMENT REQUIRED*