Description
Do you want to impress your friends at your next party in Vegas? Give them the Sin City experience by booking a Topless Waitress! Our sexy servers go above and beyond expectations to make sure everyone has a great time. You can customize our girls however you want! Want them to wear a bikini or lingerie? No problem! Want them to wear panties below and pasties above? You got it! Looking for a mini-skirt below and topless above? Sure thing! Want them FULLY NUDE? We're the only agency that can do it!
Our topless waitresses are perfect for bachelor / stag parties, birthdays, graduations, divorce parties, guys night out, march madness, draft parties, basically anything that could use some class with a nice ass 😉 Our parties are an experience that you and your guests will never forget!
Our Sexy Servers can meet and greet, converse, socialize, help prepare food and drinks and serve them to your guests in a very sexy and fun manner. Want to turn up the heat? Our girls can turn the room into a strip club and offer lap dances, body shots, body rubs, play adult games and even do erotic girl-on-girl shows! There are no limits to what our girls can do, it's only limited to your imagination!
We are the only agency that offers REAL girls and are focused on creating the BEST experience for you. Our parties will earn you bragging rights for the entire year. You will be talked up all year long! Book today and let's make your party the best ever!
Private Party vs The Casino Bar
EXAMPLE 1
Drinking at Casino Bar: For 10 guests drinking 2 drinks each (at average cost of $20 including bar tip), the cost is around $400 TOTAL.
Drinking in your Hotel Room / Suite: One 1.75L bottle of Grey Goose costs $45 at the liquor store. $5 for mixers. This makes almost 40 drinks which would cost around $800 at the bar. Cost for 10 guests drinking 2 drinks each is $25 TOTAL.
This saves you $375 which allows you to afford your own sexy Topless Waitress for TWO HOURS!
EXAMPLE 2 (more realistic)
Drinking at Casino Bar: For 10 guests drinking 3 drinks each (at average cost of $20 including bar tip), the cost is around $600 TOTAL.
Drinking in your Hotel Room / Suite: One 1.75L bottle of Grey Goose costs $45 at the liquor store. $5 for mixers. This makes almost 40 drinks which would cost around $800 at the bar. Cost for 10 guests drinking 3 drinks each is $35 TOTAL.
This saves you $565 which allows you to afford TWO sexy Topless Waitress for TWO HOURS!
BOTTOM LINE: You will SAVE money and have MORE FUN by hosting your own private party with us.
Topless Waitress Party Example
Our sexy server / bartender will come to your room to get things started. They will help setup the bar and they will undress and put on their sexy attire. The party begins when you are ready! You can play cards, watch games, get crazy and enjoy premium drinks at grocery store prices (saving you 500-1000% over the casino).
Your sexy server will engage with your friends and keep the conversation hype and lively. Got questions about what's good in Vegas? Want to know the inside scoop or how to get true VIP service? Looking for something that's hard to find? Our sexy servers are Vegas natives and know a lot about the city and can help you figure out a lot of things.
Want to take a break and do body shots? We can do that! Want to have a stripper party after the game? We can do that! Want to hit the clubs later? We can set that up for you! We are your full-service entertainment agency and we're here to serve you.
Smoke what you want, drink what you want, do whatever you want, it's your suite and it's private and just for you! There are no rules unlike the expensive casino bars and lounges where you have to oblige and be on your best behavior. You can't run around with your shirt off and do body shots. But in your hotel room, YOU CAN DO WHATEVER THE FUCK YOU WANT! So if you want to truly have fun and customize your experience, book with us and we'll make your fantasy turn into a reality 😉
Rates & Options
Two hour minimum
Bikini or Lingerie Waitress: $100 per hour
Pasties Waitress: $125 per hour
Topless Waitress: $150 per hour
Fully Nude Waitress: $250 per hour
Book 2 girls for 5% discount!
Book 3 or more girls for 8% discount!
Choose from the following options to book with us:

CARD TABLE FOR RENT!
Looking for a poker table that has a sleek and attractive design to get unique performances? Then this one is what you're in search of. The beautiful table has decorative LED lights and it allows playing the game at any time in the day conveniently.
Durable cup holders have made with steel, so you'll be able to keep your glasses and coffee cups. It'll prevent your poker table from getting stained. The thickness of the table is 5/8 with a premium playfield pad that offers you the maximum ease while playing a game.
Likewise, the table also has an armrest with a pad for the most ease while playing a great game for a long time. Besides, it comes with a 1 and 1/8-inch diameter legs that are made of steel that's another nice feature that you'll love about the table. Because having the legs are very stable; you don't have to fear to fall off from it.
Hire a Topless Waitress Today
Benefits of Being a Topless Waitress at Upscale Events in Las Vegas
Introduction
Known as the "Sin City," or "The Exotic Entertainment Capital of the World", Las Vegas is a city well-known for its opulent nightlife and upscale events. A distinctive and in-demand career, waitressing is for young, attractive people who want to work at upmarket venues and exclusive events in this dynamic and lively city. This essay examines the advantages of working as a sexy server at upscale parties in Las Vegas, highlighting the advantages on a personal, professional, and financial level.
1. Adequate Income
Earning a lot of money is one of the most obvious advantages of being a topless waitress in Las Vegas. Luxurious events in the city draw affluent patrons who are prepared to part with a substantial sum for fine eating and entertainment. Large gratuities are frequently given to waitresses in luxury establishments, which can greatly increase their pay. For those that are friendly, helpful, and provide a great client experience, these tips can be extremely generous.
In order to draw elite talent, a lot of upscale events and venues also provide competitive pay and benefits. When base pay and tips are combined, it can create a competitive benefits package that is greater than what many other entry-level positions in the city offer.
2. Opportunities for Networking as a Topless Waitress
As a topless waitress, you'll have great networking possibilities in Las Vegas, a city that feeds on relationships and connections. Attending upscale events will introduce you to celebrities, business executives, and wealthy patrons. These contacts may lead to job opportunities in the entertainment sector, hotel management, event organizing, or even entrepreneurship.
Building a solid professional network in Las Vegas can be quite beneficial for advancing one's career. Many waitresses have successfully launched their own businesses or gotten jobs in famous locations by using their contacts.
3. Contact with the Entertainment Sector
World-class entertainment is closely associated with Las Vegas, and waitresses employed in upscale events frequently find themselves at the center of this vibrant sector. They get to see world-class performers perform live, have access to private events, and experience the backstage life at some of the most well-known entertainment venues worldwide.
If someone wants to work in the entertainment industry, this exposure could be their best opportunity yet. It offers a special opportunity to learn, network, and comprehend the inner workings of the entertainment industry—all of which can be quite beneficial for future professional pursuits.
4. Mastering the Art of Outstanding Customer Service
Being a topless or fully nude waitress at a posh party calls for outstanding customer service abilities. In these situations, naked waitresses are required to serve picky and exacting customers with flawless service. This experience sharpens their ability to anticipate customer demands, maintain composure under pressure, and provide an exceptional customer experience.
These are very versatile talents that can be used in a wide range of other careers, including sales and marketing, event organizing, and hospitality management. Delivering exceptional customer service is a vital talent that can lead to a variety of possibilities across several industries.
5. Developing Self-Belief and Confidence
The glitzy, fast-paced atmosphere of Las Vegas's upscale events can foster personal development and boost self-esteem. Being involved in high-end events, dressed nicely, and interacting with wealthy clients can all contribute to a feeling of empowerment and self-worth.
Many topless waiters and buff butlers discover that working in these high-stress environments fosters poise, grace, and a strong sense of confidence in them. Their newly acquired self-assurance can benefit their personal growth and go beyond their careers.
Flexibility as well as Work-Life Harmony
In Las Vegas, being a young, attractive server frequently offers a flexible schedule. Many locations provide evening or part-time hours, enabling people to work on side projects, further their education, or engage in other interests throughout the day. Those looking for a proper work-life balance may find this flexibility very helpful.
In addition, the Las Vegas nightlife sector is booming, which implies that there is a continuous need for skilled workers. This guarantees waitresses the freedom to select shifts that correspond with their individual interests and schedules.
7. Being Involved with Diverse Cultures
Many cultures collide in Las Vegas, which draws visitors from all over the world. You will get to know a wide range of customers as a youthful, attractive waiter working at upscale events. Your horizons will widen, your cultural competency will rise, and your outlook will become more inclusive as a result of this exposure to people from all origins and cultures.
Since it fosters empathy and open-mindedness, knowing and valuing cultural diversity is an important ability that can help you in both your personal and professional life.
Integrating Into a thriving Sector
Being a topless server in Las Vegas's booming hospitality and entertainment sector can be an exciting experience. You'll be in the thick of things, enhancing the lively nightlife of the city and giving visitors experiences they won't soon forget.
Being an essential component of a fascinating sector can bring personal fulfillment. It's a career that lets you contribute to making memorable experiences for both locals and tourists.
In summary
Working as a topless waitress at upscale parties in Las Vegas has several advantages for one's career, finances, and personal life. This vocation offers a unique and valuable experience, from high pay and networking opportunities to exposure to the entertainment business and the development of great customer service abilities. It's an appealing choice for many young people in the city because it may be a stepping stone to several professional choices and personal improvement. But it's important to understand that, despite the benefits of this career, there are demands and difficulties in the field, and that skill, perseverance, and dedication are frequently needed for success.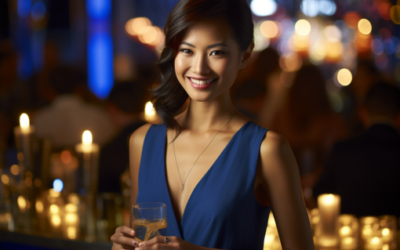 Sarah lived in central Austin, Texas. She always wanted a life of adventure and excitement away from her hometown. She missed Las Vegas' neon lights and nonstop activity. Who knew she would wind up working as a topless waitress there.
Custom Logo or Image Poker Chips
How to throw a casino party at your home or airbnb